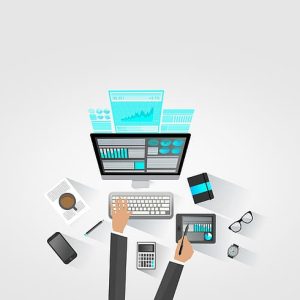 𝐀𝐜𝐡𝐢𝐞𝐯𝐢𝐧𝐠 𝐅𝐢𝐧𝐚𝐧𝐜𝐢𝐚𝐥 𝐒𝐮𝐜𝐜𝐞𝐬𝐬 𝐢𝐬 𝐨𝐧𝐞 𝐨𝐟 𝐭𝐡𝐞 𝐤𝐞𝐲.
Small business encounters a variety of financial difficulties in today's competitive and dynamic economic environment, which may limit their expansion and success. Business owners who are already juggling a number of duties may find it difficult to properly manage cash, make wise judgements, and comply with financial requirements. Virtual CFO services can be useful in this situation. Small business can maximise their financial potential and lay the way for long-term success by utilising the skills of a virtual CFO. We will examine how virtual CFO services can change your small business and foster financial success in this article.
Strategic Financial Planning
Virtual CFO services provide small business with the benefit of proactive financial planning. Virtual CFOs can create comprehensive financial strategies that are in line with the company's aims and growth objectives thanks to their experience and industry understanding. They perform a financial analysis of your existing situation, project possible future financial outcomes, and offer insightful advice on how to improve cash flow, reduce risks, and increase profitability.
Expert Financial Analysis
Knowledge of your company's financial position is essential for making wise decisions. Virtual CFOs are capable of analysing financial data and provide insightful analysis. They undertake variance analysis, define key performance indicators (KPIs), and prepare thorough financial reports in addition to performing basic bookkeeping in order to track and evaluate the financial performance of your company. With the use of this study, you may pinpoint areas that require improvement and generate growth through data-driven decisions.
Cash Flow Management
Cash flow management is important for small business because it has an impact on daily operations, investment prospects, and overall financial stability. By keeping an eye on payables, controlling receivables, and putting good cash flow forecasting tools in place, virtual CFOs may help you maximise your cash flow. You can satisfy your financial responsibilities, take advantage of development opportunities, and create a strong financial foundation by guaranteeing a continuous cash flow.
Financial Risk Mitigation
For small business owners, recognising and controlling financial risks is crucial. Virtual CFOs are skilled at seeing possible risks, evaluating their consequences, and coming up with mitigation plans. Virtual CFO services offer the required assistance to protect your company's financial stability, whether it's managing credit risks, assessing investment opportunities, or negotiating regulatory compliance.
Cost Optimisation
Keeping costs under control is essential for a successful small business. Virtual CFOs may perform a complete review of your company's costs, spot areas of wasteful spending, and make cost-cutting recommendations. They can help with budgeting strategies implementation and price structure optimisation. You can increase profitability and strategically manage resources by optimising expenses.
Conclusion
Make confident, data-driven decisions that drive your small business forward. Partner with us for virtual CFO services and gain a competitive edge in today's challenging business landscape.
Contact us now to schedule a consultation and take the first step towards financial success.
---
Anda memerlukan khidmat nasihat berkenaan hal-hal persyarikatan seperti percukaian, perakaunan, dan pengurusan perniagaan? Hubungi AMACC di talian 03-89208081 atau 010-2768832 (Customer Service Department). Lebih mudah isikan maklumat anda di SINI.